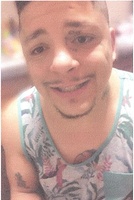 Zachary A. Capra
Schenectady - Zachary A. Capra, 32, of Southgate Dr., died Saturday, August 5, 2017, at home. Zachary was born in Naples, Italy, the son of Joseph A. Capra, Jr. and Teresa Bowden, and was a graduate of Schenectady High School. He had worked at Home Depot.
He is survived by his son, Jonah; his girlfriend, Shaquin Earring; father, Joseph A. (Dawn Breault) Capra, Jr. and mother, Teresa Bowden; grandfather, Joseph A. (Maryllis) Capra, Sr.; grandmother, Anna Capra; one brother, Michael (Michelle) Capra; aunts, uncles, cousins nieces and nephews.
A Celebration of Life Gathering will be held Wednesday evening, 5 to 7 at the Daly Funeral Home, Inc., 242 McClellan St., Schenectady.
Memorial contributions may be made to First New York Bank, 1776 Union St., Niskayuna, NY 12309 for the Educational Fund of Zachary's son's educational fund.