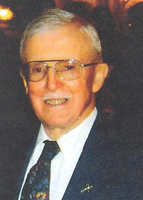 Dr. Robert Wainwright
Scotia – Dr. Robert M. Wainwright, a 1952 graduate of New York State College of Veterinary Medicine at Cornell University died Sunday November 5, 2017 at The Home of The Good Shepherd, Malta, NY. He maintained a general practice in Little Falls for 16 years. In 1968 he joined the Division of Animal Industry of the New York State Department of Agriculture & Markets as a Supervising Veterinarian. In 1980 he was promoted to Assistant Director of the Division until his retirement in 1987.
Dr. Wainwright was a member of St. Joseph's Church in Scotia, serving as a Eucharistic Minister for several years. He was active in volunteering for Ellis Hospital and Baptist Retirement Center and enjoyed modern square dancing. A World War II veteran, he was in the Sea Bees at a supply depot on Guam until May of 1946. He was married for over 60 years to Frances Wainwright who died in May of 2011. He is survived by two daughters Mary Beth (Mark) Snyder and Kathy Wainwright, three grandchildren: Robbie and James Wichliffe and Amber Rummer and ten great-grandchildren.
Robert donated his body to Albany Medical College Anatomical Gift Program.
A Memorial Mass will be held Saturday 10:00 AM at St. Josephs Church, 231 Second St., Scotia, NY. There will be no calling hours. In lieu of flowers, memorial contributions may be made to Alzheimer's Association Northeastern New York Chapter, 4 Pine West Plaza, Suite 405, Albany, NY 12205