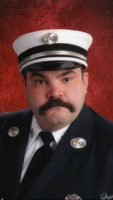 Michael T. Hynes
NISKAYUNA – Michael T. Hynes, 46, of Niskayuna, passed away on Thursday, November 9, 2017 with his loving family by his side.
He was born in Albany, NY and was a 1990 graduate of Christian Brothers Academy. He earned his Paramedic degree at Hudson Valley Community College.
He was a Lieutenant/ Paramedic with the Schenectady Fire Department until his retirement in 2016, finishing his career in the Arson Investigations Unit. During his career he worked as a Flight Paramedic for various agencies including Air Evac in Alexandria Bay, Albany Med Flight and Colonie EMS Special Operations Division. He was also a Paramedic for the Albany County Sheriff's EMS Division, Guilderland EMS and a Supervisor for Mohawk Ambulance Service. He volunteered with the Fort Hunter Fire Department and Stanford Heights Fire Department. He received numerous awards and commendations throughout his career.
Mike was a mentor, friend and teacher to many. He enjoyed mentoring those that were just starting out in the EMS field, and encouraged them to be the best that they could be. He was especially proud and honored to mentor his daughter Lauren as she follows in his footsteps in the medical field while pursuing her degree in Nursing.
Mike enjoyed spending time with his wife and daughter in Wells Beach, Maine and also vacationing and boating on Sacandaga Lake. He was an avid NY Yankees and Giants fan. He spent time, along with his wife and daughter training puppies for Guiding Eyes for the Blind.
Mike is survived by his loving wife of 26 years, Valerie (Coons) Hynes, daughter Lauren Michelle, father Lester Hynes of Albany, brother John (Beth) Hynes of Schoharie, as well as many aunts, uncles, cousins, nieces and nephews. He is also survived by his K-9 companion, Brandi. He was predeceased by his mother, Monique Hynes.
Calling hours will be held on Tuesday, November 14th from 4pm-8pm at Daly Funeral Home, 242 McClellan Street, Schenectady. Active and retired members of the Schenectady Fire Department are requested to meet at the funeral home at 5:30pm for a prayer service.
A Mass of Christian Burial will be held at St. John the Evangelist Church, 806 Union Street, Schenectady at 10am on Wednesday, November 15th. Interment will be at Memory Gardens Cemetery, Colonie.
In lieu of flowers, memorial contributions can be made to the Schenectady Fire Fighters Cancer Foundation, 1242 4th Avenue, Schenectady, NY 12303. www.neverfightalone.org