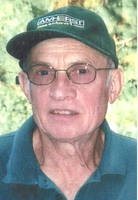 Roy Glenn Darling, DDS
Charlton - Roy Darling, DDS, 85, died on Veterans Day, November 11, from cancer, surrounded by family.
He was born in Nicholson, PA, and graduated High School in 1949, where he played basketball and baseball, and after graduation played basketball for the Fleetville Athletic Club. He earned his Associate's degree from Keystone Jr College in 1952, where he played basketball for two years.
Despite having only a 2-year degree, he attended the U. of Pittsburgh Dental School, graduating in 1956.
He was stationed as a Navy dentist in Japan from 1957 to 1958, and after discharge studied orthodontics at the University of Buffalo, graduating in 1960.
He served in the U.S. Army at Ft. Richardson in Alaska from 1960 to 1963. In Alaska, he was an avid hunter and fisherman, bagging deer, bear and moose, halibut, King Crab and Salmon. His daughter Cathlin was born in Alaska during the Cuban Missile Crisis, as plans were being made to evacuate the base.
In 1963, he established his orthodontic practice in Schenectady, where he practiced for 39 years. Through his practice he improved the lives of hundreds of patients, and years later he would often meet adults who would remind him that he straightened their teeth when they were kids. He would often peak into their mouths on the street to check his results.
Roy loved the outdoors. He drove to Alaska 3 times with his family, skied in winter, camped throughout the lower 48 with his family, and hiked the Adirondacks, Alaska, the Rockies and the Alps.
He stayed in the Army Reserve until 1992, where he rose to the rank of Colonel.
He is survived by his wife of 60 years, Elizabeth (Betsy) Darling, four children, Alan Darling of South Newfane, VT, Cary Darling of Missoula, MT, Cathlin (Douglas) Darling-Owen of Brattleboro, VT and Lisa Darling of Great Barrington, MA, brothers Howard Darling of Factoryville, PA, David Darling of Spokane, WA, Paul Darling of Fleetville, PA, sisters Olive Darling of Clarks Summit, Pennsylvania, Sally Wells of Fleetville, PA, grandchildren Luke Darling and Genevieve Darling of South Newfane, VT, Collin Owen of Boulder, CO and Kiley Owen of Boston, MA. He was predeceased by his sister, Patricia (Patty) Kile and his granddaughter, Michelle Darling.
In his retirement, he played tennis for many years before taking up golf, becoming an eager student of the game. He became the President of the Sr Men's Municipal League for several years.
Often on military aircraft, he and his wife traveled frequently during his retirement to Eastern Europe, Western Europe, the British Isles, East Asia, Australia / New Zealand, Pacific Islands, and Central / South America. They enjoyed hiking in the Alps, viewed deep space from a mountaintop observatory in Peru, and peered far into North Korea from a border post in South Korea.
Calling hours will be Wednesday 4:00 to 8:00 pm at Daly Funeral Home, 242 McClellan St., Schenectady. A Pastoral and graveside service will be held on Thursday morning at Gerald B. H. Solomon Saratoga National Cemetery, 200 Duell Rd. Schuylerville, NY At 11:15 am all attendees must be in their cars at the designated area at the info center. You will be guided to the service from there. The service ends at 12 noon.