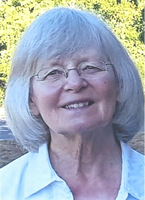 Kay R. Hurd
Schenectady, NY – Kay R. Hurd, 76, passed away peacefully, Sunday November 12, 2017.
Kay was born and raised in Elmira, NY the daughter of the late Samuel and Olga (Winkler) Roby. She was married to Dale Hurd in 1961. Kay and Dale moved to the capital district with their three young children and have called it home ever since. Kay was a loving wife and mother who played a very active role in her husband's and children's lives.
Kay's kind heart was felt by many including those she took into her home, those she cared for, and the countless she befriended and worked with in her many jobs.
After her children left the home, Kay became an avid gardener, a doting grandmother and she never met a baby she didn't love. In addition to her parents she was predeceased by her son-in-law Mark Wolfsberg.
She is survived by her children: Stacy Wolfsberg, Dale (Kathy) Hurd, Jr. and Tim (Emily) Hurd, grandchildren: Jacob, Eric, Ethan, Brooke, Tyler, Abigail, Olivia and Jack, siblings: Jack Roby, Nancy (Paul Casselberry) Roby, Don (Stephanie) Roby and Ray (Laurie) Roby and many nieces and nephews.
Calling hours will be Thursday 5:00 pm to 7:00 pm at Daly Funeral Home, 242 McClellan St., Schenectady. The funeral service will be Friday 10:00 am at the funeral home. Interment will be in Memory Gardens Cemetery.
In lieu of flowers, memorial contributions may be made to Albany Medical Center Children's Hospital, 1 Clara Barton Dr., Albany, NY 12208 or Community Hospice of Schenectady, 1411 Union St., Schenectady, NY 12308.