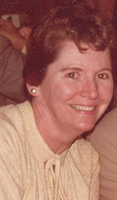 Mary Jane Boomhower
Schenectady - Mary Jane Boomhower passed away on Wednesday, November 22, 2017. She was born in Schenectady, the daughter of Paul and Mary (Ryan) Kennedy. She was predeceased by her husband of 49 years, Oscar; four siblings; Paul Richard, Cathy, Betty and Matthew. She was employed for several years at the NYS Thruway Authority and for many years with the firm Daffner, Dembo, Freedman and Shutt, CPA's. She was a devout parishioner and finance committee member of St. John the Evangelist Church.
She is survived by her son, Jim (Kathy) Boomhower; daughter, Barbara Naparano; one grandson, James; two granddaughters, Jessica and Ashley; three great grandchildren, Michael, Lucas and Connor; two sisters, Paula Kreski, Patricia Mack; Bill Kennedy and several nieces and nephews.
Funeral Services will be held Wednesday morning, 11/29/17 at 8:30, from Daly Funeral Home, Inc., 242 McClellan St., Schenectady, then to St. John the Evangelist Church where a Mass of Christian Burial will be celebrated at 9:00.
Interment will follow in Most Holy Redeemer Cemetery, Niskayuna. Calling hours Tuesday evening, 6:00 - 8:00 at the Funeral Home.
Memorial contributions in Mary Jane's memory may be made to St. John the Evangelist Church or a charity of one's choice.