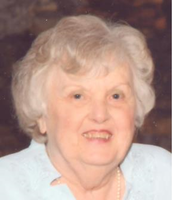 Doris Eileene Christensen
Niskayuna, NY – Doris Eileene Christensen, 95, died peacefully, at home Monday January 1, 2018.
Eileene was born in Knoxville, Illinois the daughter of the late Carl and Carrie Anderson. She moved to Schenectady in 1947 when she married Carl Christensen and they resided and raised their family in Niskayuna. Carl predeceased Eileene in 2008.
Eileene and Carl enjoyed more the 60 years of summers at Galway Lake. She liked sewing, making quilts, Bridge, crafts and was a member of Zion Lutheran Church.
As a young woman, Eileene was a secretary for Clifford Anderson Insurance Agency in Galisburg, Ill.. She was a very active volunteer all of her life. Eileene gave very freely of her time to the PTO at Craig Elementary School, Van Antwerp Middle School and Niskayuna High School. She was a volunteer and member of Sunny View Auxiliary, the secretary of Niskayuna Co-Op, was a member of the Schenectady Arrangers and served as Treasurer, Secretary and President and was a member of PEO, joining in 1963 and served as Secretary, Vice-President and President. Eileene also volunteered at the YWCA for many years, elected to the YWCA Board in 1963 and again in 1966, serving on the World Fellowship Committee and the Christmas Bazaar Committee.
Eileene is survived by her children: Jay Christensen of Niskayuna, Jean (Richard) Scharphorn of Niskayuna and Janet (Bill) Bernhart of Chester, Conn., grandchildren: Kristin (Kyle) Armstrong, Corrie (Dave) Michaelson, Jenifer (Jon) Newton and Michael (Christina) Bernhart. Great-granchildren: Tyler, Alexa and Logan Michaelson, Parker and Piper Armstrong, Conner and Dylan Newton and Ryan and Christopher Bernhart and several nieces and nephews.
Funeral services will be private at the convenience of the family. Memorial Contributions may be made to American Cancer Society, 260 Osborne Rd., Albany, NY 12211 or American Diabetes Association, 2 Pine West Plaza, Albany, NY 12205.