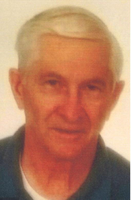 Thomas A. Olena
Rotterdam -Thomas Albert "Pop" O'Lena, 91 of Rotterdam, NY passed away after a brief illness on New Year's Eve, twelve years after the passing of his loving wife Joan Michele McGann O'Lena.
He was born and raised on his family farm in St. Albans, Vermont. After serving in the U.S. Navy during World War II, he relocated to Schenectady, NY to work for General Electric. He met and married Joan there, settled in the Woodlawn area, and together they started their lives together. They had four children and eventually moved to the Highbridge area of Rotterdam. Tom had many roles during his years at General Electric and retired there after 42 years of service. He dedicated himself to supporting his family. He was a protective father and was always present at his children's events. He was a dedicated chauffeur to his family and wife. He loved and cared for Joan for over 50 years in life and also in death. Tom was active with St. Paul the Apostle church and Carmen Little league. He was a lifelong Boston Red Sox and NY Giants fan. His complete devotion to his family was second to none, always putting others first.
Tom will be lovingly remembered by his children Mark (Suzanne) O'Lena, Michele (Rob) Feathers, Jean (Rob) Spoor, and Thomas (Lori) O'Lena. Tom will be fondly remembered by his eight grandchildren, Daniela (Ryan) McLellan, Kenzie O'Lena, Olivia Feathers, Sarah Spoor, Riley O'Lena, Logan Feathers, and Piper O'Lena. Tom is also survived by his sister Arlene, and numerous nephews, nieces, cousins and in-laws. He was preceded in death by his parents Albert Harry O'Lena and Nora Theresa Griffin O'Lena, his siblings Kenneth, Harry, Francis(Corky), Arthur, Amy, and Mary.
In lieu of flowers, donations can be made in Tom's name to The Community Hospice Foundation, 310 South Manning Blvd, Albany, NY 12208 or at https://donate.givetocommunityhospice.org. Donations can also be made at the Veterans Miracle Center, 10 Interstate Avenue, Albany, NY 12205 or at www.vmcalbany.org.
Funeral Service Thursday afternoon 11:30 at the Daly Funeral Home 242 McClellan St .An hour of visitation will precede the service Thursday from 10:30-11:30 . Interment will be private . You may visit our online guest book at www.dalyfuneralhome.com