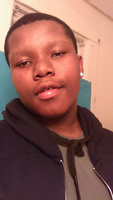 Nyzair Robinson Johnson
Schenectady – Nyzair Tyrell Robinson Johnson, 15, passed away Monday, January 1, 2018.
He was born in Albany but lived most of his life in Schenectady. He was educated in the Schenectady City Schools through the first part of high school and most recently was a student at the LaSalle School.
Nyzair loved playing basketball, playing for LaSalle and throughout the Schenectady community. He was a loving, caring person to all who knew him. Nyzair deeply loved his family and friends, was very good with children and was a best friend to many.
He is survived by his loving mother, Gladys Robinson; siblings, Nyree McDonald, Naytia Robinson, Nathan Robinson and Diamond Robinson; father, Jerry Johnson and a host of relatives; including aunts, uncles, four nieces, four nephews and cousins.
Funeral service will be 12 noon on Wednesday, January 10, 2018 at New Day Christian Church, 1259 Chrisler Ave., Schenectady. A calling hour will precede the service, from 11:00 a.m. to 12 noon at the church. Interment will be in Park View Cemetery.