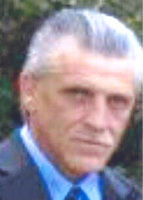 Percy L. Brand
Rotterdam – Percy L. Brand, age 66, passed away peacefully from this world, January 2, 2018, surrounded by loved ones, after battling a long illness.
He is survived by his mother, Rita M. Brand; his sons, Jason and Ricky; his brother, Lynwood Brand and grandchildren, Jacob, Jason, Sandra and Giovanni, as well as many nieces, nephews and extended family.
Percy is also survived by his longtime partner, Patricia Greenwood and her children, Katie, Meghan and Garrett, as well as special caretaker, Tracey Samuel.
Percy was a decorated Vietnam War veteran and a lifelong lover of motorcycles and WWE wrestling. He enjoyed the outdoors and the time he spent hunting with his father, Danny Brand. He last worked with John Wells Landscaping of Niskayuna as a truck driver.
In lieu of flowers, the family asks that donations be sent to the American Cancer Society and Hospice.
The family also wishes to extend a special thanks to Clifton Park Oncology workers for all their kindness and support.
Calling hours will be held at Daly Funeral Home, Inc., 242 McClellan St., Tuesday evening, January 9th, from 6:00 to 8:00 p.m.
Interment, Memory Gardens Cemetery, Colonie, Wednesday morning, January 10th at 10:00 a.m.