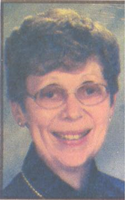 Lorraine M. Boink
Rotterdam – Lorraine M. Boink, 87, passed away peacefully, Saturday March 10, 2018.
Lorraine was born in Schenectady on September 21, 1930 the daughter of the late Raymond and Milene (Chamberlain) Winston and was a lifelong area resident.
Lorraine attended Carman Elementary School and graduated from Draper High School in Rotterdam NY. Through the years she worked at Woolworth, General Electric and Wine Merchants until her retirement. Lorraine was a long-time communicant of St. Gabriel's Church and a member of the Ladies Auxiliary of Carmen Fire Department.
Lorraine was a loving supportive mother, devoted wife and a devout Catholic who always brightened the room with her extraordinary smile and beautiful blue eyes. She loved her daily walks, read extensively, and lived selflessly always caring for others.
Lorraine is survived by her husband of 65 years Bernard "Bernie" Boink, their children Deborah Severino and Thomas Boink and many nieces and nephews. She was predeceased by her two brothers Curtis and Leonard Winston.
Calling hours will be Wednesday March 14th from 5 pm to 7 pm at Daly Funeral Home, 242 McClellan St., Schenectady. A Mass of Christian Burial will be celebrated Thursday March 15th at 10 am at St. Gabriel Roman Catholic Church, 3040 Hamburg St., Rotterdam. Interment will be in Most Holy Redeemer Cemetery. In lieu of flowers, memorial contributions may be made to The Alzheimer's Association, St. Gabriel's Roman Catholic Church or Carman Fire Department Ladies Auxiliary.