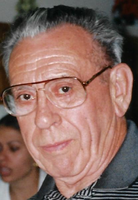 William J. Perry, Sr.
Rotterdam - William J. Perry, Sr. 92, of Rotterdam, died Friday, March 30, 2018, at home.
Bill was born and educated in Saratoga Springs. He was the son of Arthur and Grace Perry. He resided in Saratoga Springs for 25 years and lived most of his life in the Schenectady area. He was a U S Navy World War II veteran. Bill was an electrician and had worked for the Watervliet Arsenal until retirement in 1980. He had been a member of the Masons.
He was predeceased by his two wives, Anna "Florence" Perry, she died in 1985 and Helen Perry, she died in 1999.
Bill is survived by two children Susan (Richard) Sheffield of Valrico, Fla. and William (Joanne) Perry, Jr. of Rotterdam; five grandchildren, Scott (Denise), Bryon (Jennifer), Erin (Kevin), Christine (Joseph) and William, III (fiancé Heather); ten great-grandchildren; Catherine, Emmaline, Dalton, Parker, Hunter, Connor, Kayden, Elijah, Marcus and Alexander; dear friend Gen Bursiewicz and nieces and nephews. He was predeceased by his three siblings Walter, Jean and Erma.
Calling hours will be held Tuesday evening 5 to 7 at Daly Funeral Home, Inc., 242 McClellan St., Schenectady. Interment, private at the convenience of the family. Memorial contributions may be made to Community Hospice, 445 New Karner Rd., Albany, NY 12205.