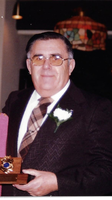 Robert C. Jones
Schenectady - Robert C. Jones, 93, formerly of Furman St. and Saratoga Rd. Glenville, died Friday, April 6, 2018, at the Evergreen Commons Rehabilitation and Nursing Center in East Greenbush.
Bob was born in Scotia, the son of Eugene and Rhoda Jones. He was a graduate of Scotia High School and was a U S Army World War II veteran.
He had worked at the General Electrical Co. as a security guard for 21 years, later working for the Schenectady County Sheriff's Department. While working there he was the first motorcycle officer for Sheriff Calkins, he retired in 1983 with 20 years service. Bob was a Past President of the Old Schenectady Deputy Sheriff's Assoc. and a longtime communicant of St. Luke's Church.
He was predeceased by his wife Dorothy Jones, they married in 1950, she died in 2016.
He is survived by two children, Kenneth (Mary) Jones of Esperance and Victoria (Joseph) Grygas of Colonie; four grandchildren, Christoper and Kelli (Thomas) Jones-Smith and Jillian and Joseph John Grygas; and a great-grandson, Caleb, nieces and nephews. He was predeceased by his brother, George Jones and sister, Marion Nowiak.
Funeral service, Tuesday afternoon, 1:00 from Daly Funeral Home, Inc., 242 McClellan St., Schenectady and 1:30 at St. Luke's Church where a Mass of Christian Burial will be celebrated. Calling hours, 11:00 to 1:00 at the funeral home. Interment, Most Holy Redeemer Cemetery, Niskayuna with military honors.
Memorial contributions may be made to St. Luke's Church, 1241 State St., Schenectady, N Y 12304.