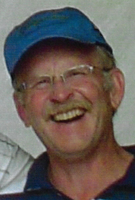 Brian G. Fisher
Schenectady - Brian Fisher, born in Niskayuna passed away at home on April 12, 2018 after a brief illness, at the age of 59. Brian was the first born son of Alan "Bruce" Fisher the late Barbara Fisher. Brian was employed by the Niskayuna School District for 39 years. Working there was one of the greatest joys of his life.
Brian loved watching the Yankees and the Giants. He took great pride in the manicured grounds around the house where he and his dad lived, and made sure that the feeders for the feathered friends that he and his mom loved to watch were always full. Most of all, he loved spending time with his family celebrating birthdays and holidays, but especially on summer weekends where he was the patio grillmaster.
He is survived by his father, Alan "Bruce" Fisher, sister Patricia Ring of Exeter, NH, brother Jeffrey (Colleen) Fisher of Waterford, as well as his great aunt Virginia Fisher of Schenectady, nieces Allison Ring and Sarah Fisher, and nephew Daniel Fisher. Calling hours will be Monday April 16, from 5 to 8 p.m. at the Daly Funeral Home, 242 McClellan St., Schenectady. A funeral service will be held at the funeral home at 10 a.m. on Tuesday April 17, 2018. Burial will take place at Niskayuna Reformed Cemetery. In lieu of flowers, donations may be made in his memory to the Niskayuna Public Schools Brian G. Fisher Memorial Fund, 1239 Van Antwerp Rd., Niskayuna, NY 12309.