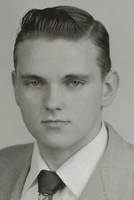 Donald C. Keenan
Schenectady - Donald C. Keenan, 85, died Tuesday, September 3, 2019, at Ellis Hospital.
Don was born in Schenectady, the son of Charles and Eileen Keenan. He attended St. Columba School and was a graduate of Nott Terrace High School. He also attended Union College evening division classes. He was a U.S. Navy Veteran. At one time he worked for the General Electric Co., later working for WRGB as a Cameraman and Film Editor, retiring in 1996 with many years service. Don was a member of the Hibernians and a lifelong communicant of St. Luke's Church. He will always be remembered as a devoted son, husband, father and grandpa.
He is survived by his wife of 59 years, Mary Keenan; they married in 1960.
Don is also survived by three children: Jackie (Andy) Sharp, Brenda (Peter) Adams and Brian Keenan. He was predeceased by their son, Kevin Keenan. Don is survived by three grandchildren: Kelly, Greg and Corey Sharp, several cousins and in laws.
Funeral service, Monday afternoon, 12:30 at the Daly Funeral Home, Inc., 242 McClellan St., Schenectady and 1:00 at St. Luke's Church, where a Mass of Christian Burial will be celebrated. Calling hours Sunday afternoon from 4:00 to 7:00 at the funeral home. Interment, St. Joseph's Cemetery, Schenectady.
Memorial contributions may be made to St. Luke's Church (for the Food Pantry), 1241 State St., Schenectady, NY 12304 or the Ancient Order of the Hibernians' JFK Division 1 Schenectady, 1748 State St., Schenectady, NY 12304.
The Keenan family would like to thank the nursing staff and doctors who cared for Don at Ellis, especially Patrick and Patrick. Their care and kindness to Don and family is gratefully appreciated and will always be remembered.