(518) 374-1600
242 McClellan Street | Schenectady, New York | 12304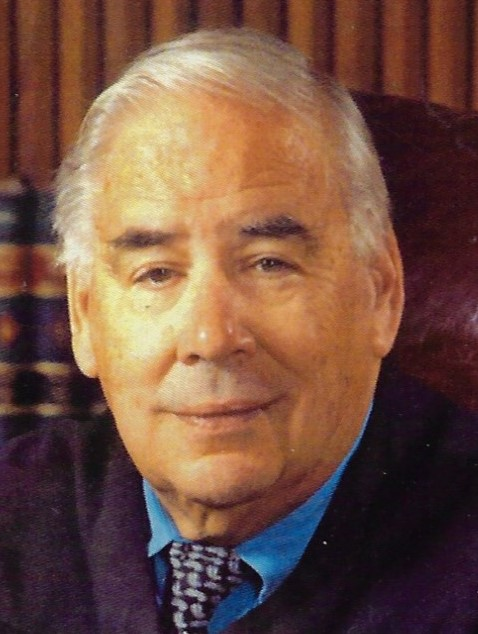 Obituary of Vincent J. Reilly, Jr.
Niskayuna - Hon. Vincent J. Reilly, Jr., 77, a retired New York State Supreme Court Judge, passed away Sunday, September 22, 2019, surrounded by his loving family.
Vincent was born in Brooklyn, NY on July 15, 1942, the oldest of six children, to Jeanne and Vincent Reilly, Sr. When he was 8 years old the family moved to Niskayuna where he attended elementary school and high school. Vince was the class of 1960 president at Niskayuna High School and was one of the original two inductees to the school's hall of fame. He attended the College of the Holy Cross, graduating in 1964 and went on to earn his Juris Doctorate from Albany Law School in 1967. Vince also served as a 2nd Lieutenant in the Army National Guard and was honorably discharged in 1973.
He began his legal career in private practice forming a partnership with Dennis Englert in a firm which became Englert, Reilly and McHugh. Vince also served as an Assistant District Attorney in Schenectady County.
His love of and respect for the law knew no bounds. In 1977 Judge Reilly was elected Niskayuna Town Justice and served until 1984, when he was elected Schenectady County Family Court Judge. In 2001 he was elected to the New York State Supreme Court, Fourth Judicial District. Judge Reilly presided over the Schenectady County Drug Court for many years and was committed to the treatment and recovery of those affected by the diseases of alcoholism and drug addiction. He faithfully served the people of Schenectady County until 2017 when he retired. Judge Reilly served on many committees and received numerous awards and distinctions throughout his career. He was the recipient of the New York State Bar Association's Howard A. Levine Award for Excellence in Juvenile Justice and Child Welfare; the Hon. Edward S. Conway Judicial Excellence Award from the Capital District Trial Lawyer's Association; the Harold E. Koreman Award for commitment to the administration of justice with fairness and compassion; and the Ray of Hope Award for his work in professional wellness. He was a member of Chief Judge Judith Kaye's Commission on Substance Abuse; chairman and trustee of the New York State Lawyers Assistance Trust; and member of the NYSBA Lawyer Assistance Program (LAP). Judge Reilly also presided over the Schenectady County Bar Association's annual Naturalization Ceremony. He was very active in the Schenectady County Bar Association High School Mock Trial Competition. The award for the mock trial competition was named The Reilly Cup in his honor.
Vince married his fellow Niskayuna High School classmate Linda Roberts, in August of 1966; they recently celebrated their 53rd wedding anniversary. Together, they raised their six children in Niskayuna and spent summers at their camp on Lake George. Vince was a devoted husband, father and grandfather. He was always there to cheer for his children at their many sporting events and to support them in whatever their endeavor might be. Vince was always available to listen and to offer advice, even when not requested! Whether with his family, friends, or the legal community, Vince's wisdom, humanity, humor, and compassion made a tremendous impact on the many lives he touched.
In addition to his wife, Linda, Vince is survived by his children: Melinda Mitchell of Needham, MA, Christina (Scott) Bell of South Boston, MA, Vincent (Terri) of Seattle, WA, Dr. James (Matt) Reilly of Chicago, IL, Dr. Daniel Reilly of Saratoga Springs, NY, and Lindsey Reilly of Stratford, CT. He is also survived by his loving grandchildren: Conor Mitchell, Mackenzie Mitchell, Clare Mitchell, Chase Bell, Ty Bell, Katelyn Reilly, Dylan Reilly and Meg Reilly, siblings: Stephen (Peggy) Reilly, Katherine (Rusty) Brink, Mary Alice (Rick) Farrell, John (Tara) Reilly and Joseph (Steph) Reilly, many nieces and nephews. In addition to his parents, he was predeceased by his infant brother Edward Reilly.
Calling hours will be Friday 4:00 pm to 7:00 pm at Daly Funeral Home, 242 McClellan St., Schenectady. A Mass of Christian Burial will be celebrated Saturday, 10:00 am at St. Kateri Tekawitha, Rosa Rd. (formerly Our Lady of Fatima). Internment will be private at the convenience of the family.
The family would like to extend their deepest appreciation to the doctors, nurses, techs and all of the devoted staff of Albany Medical Center and Ellis Hospital, in addition to all of the medical professionals who provided such compassionate care throughout Vince's illness.
In lieu of flowers, memorial contributions may be made to the Boys and Girls Club of Schenectady, PO Box 466, Schenectady, NY 12301, the Schenectady City Mission, 425 Hamilton St., Schenectady, NY 12305, or the St. Jude's Children Research Hospital, 501 St. Jude Place, Memphis, TN 38105, www.stjude.org
To send flowers to the family of Vincent Reilly, Jr., please visit Tribute Store
Share Your Memory of
Vincent